Another round of artist that could use a little love, shop hearts, etc.
First up one of my all time favorite artists, Kim Neely, a/k/a
Bluff Road Art Glass
. Her sense of color and design often leave me searching for a pulley to lift my chin off my desk. This set of Kim's is one of my all time favorites. It fascinated me on a design and detail level but the story got me! It was inspired by a trip to the Baton Rouge zoo... a place where I spent a good deal of time as a child.
This is a more recent example of her work.
She is one of my favorite artists to watch. Glass just sings in her skilled hands!
Kim's
gallery of past work is HERE.
Her
website where she occasionally sells direct (get on her mailing list!) is HERE.
And her
ebay listings can be found HERE.
Next up is
Ginny Hampton Schmidt a/k/a Ginnovations
. Ginny is another very talented lampworker. Check out this
beauty from her website.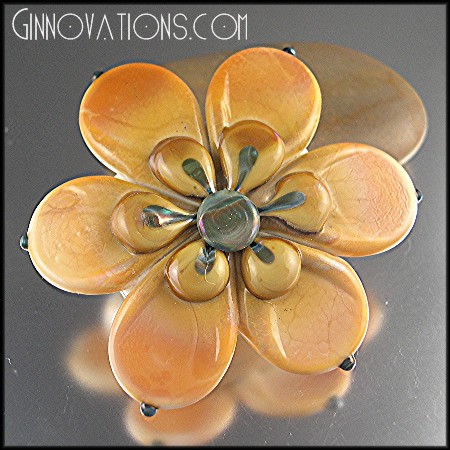 And this pink and fine silver mesh beauty is
in her Etsy store.
Ginny's website is HERE.
Her
items on Etsy can be found HERE.
Finally, our last artist is
Pamela Dyer Troutman of TikiBeads a/k/a daisydog7 on ebay
. Check out this
breath-taking silvery blue set.
And isn't
this fall set just lovely
???
Pamela's very creative blog is HERE
. And her
beads are on ebay.
These artists are talented and have excellent reputations. They deserve our support and business!
All photos are copyrighted by the respective artists.